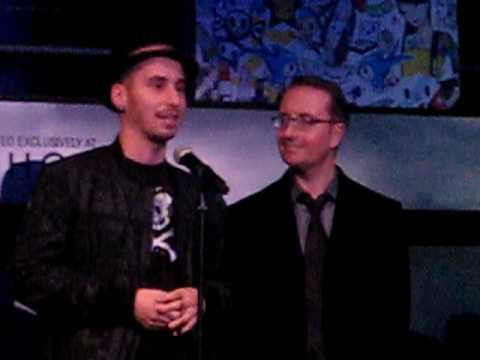 Fan favorite Tokidoki creator Simone Legno launched his Tokidoki cosmetics collection in NYC last night with Sephora. "Dangerously Fun" was the theme,  allowing for a contrast of airy cotton candy treats, a rock band,  female skateboarders and Tokidoki avatars. Don't let the cute packaging  of this collection  fool you. This make-up line is heavy duty in quality and innovation. Rich pigments to the delight of the pro make-up lover and the average girl.  The pencil liners and shadows are a dream! In the words of Simone this collection is all about "experimenting,  mixing  elegance and fun".  On the next page a closer look at the event.
Related posts:
»
Tokidoki X Sephora Product Close-Ups
»
Slate: Tokidoki X Sephora Holiday Launches
»
Sephora X Hello Kitty Collection
»
Tokidoki X Sephora Launch Date!
»
Tokidoki at Magic: Sephora Collabo!